What a Week! What a Winner!
Wow! What a week it was! For seven days we celebrated all the wonderful benefits of play at Gymboree Play & Music. Thank you so much to all the lovely families who shared in our national campaign Play Strong during the week. Whether it was on social media or in one of our centres, we loved celebrating with you. Plus, huge congratulations are in order for a lucky winner of some amazing prizes. There's more about that below.

A Celebration
All week during Play Strong, we celebrated the physical, emotional and cognitive benefits of play. As all families who visit Gymboree Play & Music classes know, play is such an important way of fostering and nurturing child development.
Through our progressive classes for babies, toddlers and pre-schoolers, our age-appropriate activities develop little ones through play. And with parents and carers actively encouraged to participate, we can create family bonds and build understanding of each child's development. It's no wonder our expert-designed classes are award winning!
Expert guidance
Throughout Play Strong, we explored the different ways in which play can support child development. Through play, little ones develop strong healthy bodies that grow strong, healthy minds. Studies by UK experts in child development have found a strong connection between babies and toddlers who exercised frequently and their cognitive function right through to adulthood.
Additionally, we also extolled the virtues of rough and tumble play which lifts emotions and makes little ones happier.  It helps them explore boundaries, try new things, understand and assess danger and feel a sense of accomplishment when they achieve something. This includes activities such as wrestling, play fighting, tickling, climbing and jumping.
Gymboree Play & Music classes each last for 45 minutes, which does wonders for both sleep and appetite. The healthy pattern of exercise, eating and sleeping helps a little one's emotional regulation and related brain structure development.
Additionally, we also highlighted expert guidance that active play creates better problem solvers. Our classes are created to support learning around the ways little ones think, explore their environments and ultimately, figure things out.
Finally, we also looked at how cruising, climbing & crawling builds brain and language development. Playtime in a stimulating environment is a time when little ones are engaged and interested. Which means, it is a great opportunity for learning and for acquiring language skills.
Prize winners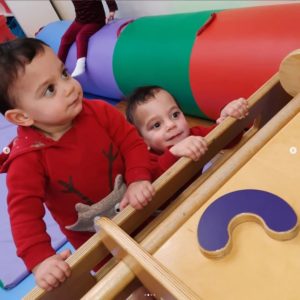 The enormous benefits of play have been embraced by all our members and we were thrilled to see all the entries for our Play Strong competition. We offered an amazing prize of a full month of classes at one of our centres, plus a Piccolo bundle packed with delicious and nutritious favourites, and a Nimble starter kit, full of baby friendly cleaning essentials.
To be in with a chance to win, we asked parents and carers to post a video or picture on social media of their little one 'playing strong'.
So well done Michela Virdis for gaining the most likes and winning this wonderful giveaway! We can't wait to see you all in our class again soon!  Please get in touch with us at headoffice@gymbo.co.uk to arrange your prizes.
That concludes our Play Strong series, celebrating the physical, emotional and cognitive benefits of play.  If you'd like to join in the fun, why not enquire now and come along to play strong at Gymboree Play & Music!