Healthy Bodies Healthy Minds
Strong, healthy bodies grow strong, healthy minds.
Most people know that exercise in early years helps a child's physical development. But did you know that exercise also supports cognitive development too?  It's one of the benefits of play, which we are celebrating all week with Play Strong.
Expert Opinion
Studies found a strong connection between little ones who exercised frequently and their cognitive function through to adulthood. The Chief Medical Officers of England, Scotland and Wales released the Physical Activity Guidelines in 2019. The guidance highlighted all the benefits of early years exercise.
The report concludes that active children are healthy, happy, school ready and sleep better.
As well as the benefits of exercise, they also say that physical activity for early years "contributes to brain development and learning" too. It also recommends aiming for at least 180 minutes per day for little ones aged 1-5.
Keep Children Active
The guidelines say: "Children under 5 should not be inactive for long periods, except when they're asleep. Watching TV, travelling by car, bus or train, or being strapped into a buggy for long periods are not good for a child's health and development.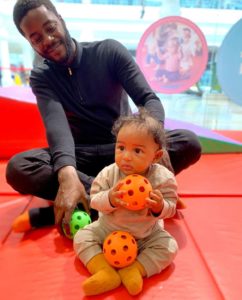 "All children under 5 who are overweight can improve their health by meeting the activity guidelines, even if their weight does not change. To achieve and maintain a healthy weight, they may need to do additional activity and make dietary changes." Recommended activities include playing with blocks and other objects, jumping, walking, dancing, climbing, skipping, throwing and catching.
Meeting Their Development Needs
At Gymboree Play & Music, we enable parents and carers to take a big step towards their daily target at our classes. Furthermore our Babies, Play & Learn, Pre-school and Lego classes enable little ones to be active straight from newborn to 5.
Expert teachers deliver our programmes at our centres nationwide, where thousands of little ones develop healthy minds through play. That's why we are thrilled to be celebrating Play Strong all week.  And don't forget to enter our Play Strong competition on Instagram!
So why not enquire now and come along to play strong at Gymboree Play & Music!
Next up – Let's Get Rough & Tumble