Let's Get Rough and Tumble!
It's not always easy to watch on when our littles ones are involved in a little rough and tumble. Let's be honest, they are the most precious things in the world to us.
Healthy Development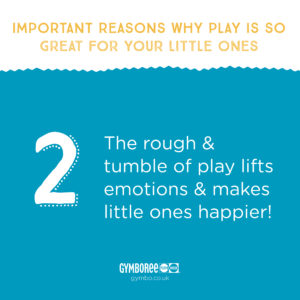 It is only natural to be protective. And it can sometimes be a little uncomfortable watching them take part in rough and tumble play. But it is important, as parents and carers, we recognise the difference between aggressive play and some safe and healthy rough and tumble. Why? It's because, a little bit of rough and tumble has so many developmental benefits* for babies and toddlers.
Natural and Nurturing
All week at Gymboree Play & Music, we are celebrating the physical, emotional and cognitive benefits of play with our national campaign Play Strong. This includes rough and tumble which as well as building strength, can also lift emotions and foster brain development.
This includes activities like wrestling, roughhousing, play fighting, tickling, tag, climbing, jumping and dancing. Sometimes it can look like actual fighting, But it's all perfectly natural, normal and nurturing development. It's all part of growing up.
Healthy Play
Rough and tumble is more appealing to some little ones than for others. But it's not an activity that should be deliberately discouraged. It's a positive experience for every child's evolution. Through rough and tumble, they will learn about healthy risk taking.

This means exploring boundaries, trying new things, understanding and assessing danger and feeling a sense of accomplishment when they achieve something. It also helps with bonding with other children. It's because physical contact builds close relationships, evoking positive feelings. Some perfect examples are piggyback or pillow fights. Human relationships are much more than just conversation.
Lots of fun
Rough and tumble also helps little ones develop emotional intelligence and empathy. Through the experience, they learn what is fun and what hurts, both for themselves and others. It is also great exercise. Building strength, supporting muscle development, improving motor skills, flexibility, dexterity, and hand-eye co-ordination.
Last, but not least – it's a whole lot of fun! It's exciting and adventurous. Without too much structure, little ones can truly express themselves when they are free to play. It's why Open Gym at Gymboree Play & Music is such an important and valued time for families who visit our centres. But don't worry, we also encourage a lot of rough and tumble in our Runners, Explorers, Explorers Plus, and Explorers Advanced classes!
So why not enquire now and come along to play strong at Gymboree Play & Music!
Next up 45 Minutes Can Do Wonders
Back to Healthy Bodies, Healthy Minds
*credit Flinto