It's Play Strong at Gymboree Play & Music! It's a very special week, where we're celebrating the physical, emotional and cognitive benefits of play.  Check out little Isabelle 'playing strong' at Gymboree Play & Music Tunbridge Wells!
Prizes Galore
To celebrate, we are giving away a full month of classes at a Gymboree Play & Music centre of your choice! Not only that, but a lucky winner will also receive a Piccolo bundle packed with all your little one's delicious and nutritious favourites. Plus, a Nimble starter kit, full of plant-based baby-friendly cleaning essentials.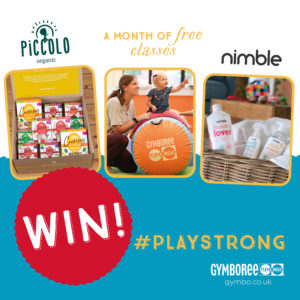 All you need to do to win this amazing prize is:
post a video or picture on your Instagram grid of your little one 'playing strong' using our hashtag #playstrong
follow @gymboreeclassesuk, @mylittlepiccolo, and @nimblebabies
It couldn't be more simple! The winner will be the entry with the most about of likes.
Experts in Play
All week, we're celebrating the benefits of play – it's something we know all about at Gymboree Play & Music.  All our classes are designed by experts in both education and in play. We host age-appropriate activities to help develop the cognitive, physical and social skills of little ones as they play. Each of our baby, toddler and pre-schooler classes are also recognised for their unique approach to parent involvement. Classes and activities encourage participation in and understanding of each child's development.
Child Development
All week for Play Strong, we will be sharing with you reasons why play is so fundamental for the development of healthy, happy children. Play makes little ones stronger, lifts their emotions, aids sleep and their appetite, enables them to develop problem solving skills and nurtures brain and language development.
And with the chance to win a whole month of classes, Piccolo's organic treats and to clean up afterwards with Nimble's plant-based cleaning ingredients, it could be quite a week! So, remember to tell your friends and post your pictures and videos on Instagram using #playstrong to enter.  Have fun!
First up – Strong, healthy bodies grow strong, healthy minds.