This month is National Share A Story Month: a celebration of the power of story telling and story sharing, and an all-round brilliant initiative that encourages reading.
Why Read?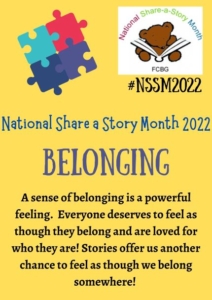 Reading is for everyone – regardless of age – and it has such massive benefits for little ones. It's difficult to carve out uninterrupted one-on-one time with them, away from buzzing phones, loud siblings and the general level of mayhem that reigns in most busy family households.
But reading is the best way to build confidence, expand vocabulary, feed the imagination, foster empathy and have fun together. Yet fewer than half of 0-2 year olds are read to every day or nearly every day, and a staggering 400,000 little ones in the UK don't have books at home.
So, if there's one thing to make time for today, it's to sit down and read together.
How to get involved
The theme of this year's National Share A Story Month is 'belonging', encouraging children to share a book that gives them a sense of belonging, makes them smile and one which they can relate to the character.
The options are endless – there are so many wonderful tales to fire up the imagination – so if it's all a bit baffling, there's a list of recommended reads that spans from toddlers to teens.
Read with us
Reading is very much part of the Gymboree Play & Music experience. Story time plays a key role in our Pre-schooler Family Play, Explorers Plus and Pre-school Steps classes, and is a lovely way to bring a busy, fun-filled class to a close.
We aim to gently guide little ones towards school readiness, working to a custom-designed curriculum that challenges your little one as they grow.
Above all, it's about coming together as a class and having fun. So you can expect some great stories in class this month.
"The more that you read, the more things you will know. The more you learn, the more places you'll go." – Dr Seuss