Maternal Mental Health Awareness Week
This week marks Maternal Mental Health Awareness Week: a subject that resonates with us all, and one that we feel particularly proud to champion here at Gymboree Play & Music.  It's is a week-long campaign dedicated to talking about mental health problems during and after pregnancy, organised by the Perinatal Mental Health Partnership UK.
Stronger Together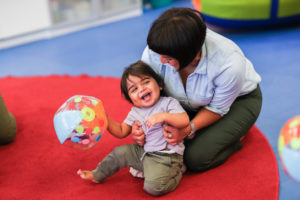 This year's theme is The Power Of Connection; the recognition that we are stronger together. The idea of coming together and spending time – not just with your little one – but with fellow mums too, lies at the heart of everything we do at Gymboree Play & Music. We are all about participation: playing together, building confidence and supporting one another.
Our Baby Classes
Being a mum can be tough, not least in those first few sleep-deprived weeks. Over the past 45 years, we've thought long and hard about how best to support new mums in our classes. In fact, Joan Barnes started Gymboree Play & Music as a way for local mums and their little ones to spend time together, learning and playing, and supporting each other.
These seminal months are so important for both mums and babies. Our baby classes are all about celebrating the mammoth achievement that is getting out of the house(!), learning how to play, and introducing sensory play, songs and social play. Stimulating your baby's brain development is not only great fun, but it also does wonders for their sleep and appetite. And a full tummy and a good snooze makes for a happy baby… and a happy mum. Head here for more on play-eat-sleep patterns.
Supporting Mums
Our classes are also purposefully designed to bring mums together. There are so many studies that highlight the benefits of being with other mums and sharing not just the highs, but the lows too. A weekly class gives structure to the week and a bit of regularity and familiarity that can be a real lifeline when you're having a wobble. Plus, our brilliant teachers have been doing this for years – they are so knowledgeable and supportive.
Gymboree Play & Music is for everyone: parents and carers alike. But this week, we're flying the flag for the mums!