It's that time of year again! Time to dust off the 'Harry Potter' glasses or even don a 'Highway Rat' hat or perhaps even slip into your 'Where's Wally?' pullover. Yes, it's World Book Day 2022! This year is a very special year, celebrating the 25th anniversary of World Book Day in the UK and Ireland.
Changing Lives
World Book Day has become one of the signature events of the year for young children and their families. And with its major emphasis on child development and learning, it also holds a special place in the hearts of the Gymboree Play & Music family. As well as the fun of dressing up as their favourite fictional characters, each child can take advantage of a £1 book token. The tokens are available from all book sellers and retailers.
World Book Day is about changing lives through a love of books and shared reading. Organisers behind World Book Day say that reading for pleasure is one of the most important ways to improve a child's life chances. Yet, reading for pleasure is in decline and nearly 400,000 little ones in the UK don't have books at home.
School readiness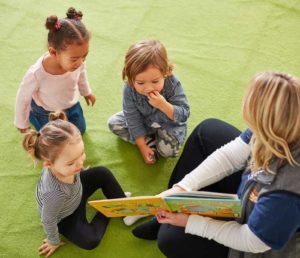 Books and fictional storytelling are part of the Gymboree Play & Music classes experience. In our Pre-schooler (22 months to 5 years) classes, storytime is a key part of our Family Play, Explorers Plus, and Pre-School Steps classes for little ones. There, our expert teachers will help to nurture them to school readiness by reading books.
Having fun
And of course, we can't wait to see what fantastic costumes babies, toddlers and pre-schoolers wear to our classes on 3rd March. Dressing up is not compulsory, but anyone who wishes to dress up as a character from their favourite book is very welcome. We can enjoy the fun and creativity of World Book Day together. Then, we can all live happily ever after!
Find out more about World Book Day by visiting https://www.worldbookday.com/