Now that we're back into another national Lockdown we're planning Gymbo @ Home again on our national Facebook page!
Gymbo @ Home is short live-action or pre-recorded classes delivered to you online in the comfort and safety of your own home.  Gymboree Play & Music classes bring a unique combination of music, movement, props, and imaginary play, all to create a fun and magical world where children learn, thrive and most importantly have fun.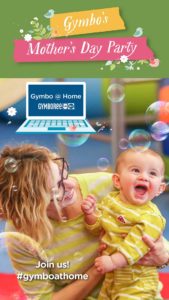 We have 3 free 30 minutes sessions planned for you so far:
So jump over to Facebook, click 'going', and put them on your calendar!
We've shared some cool ideas for fun activities you can do with your little ones around the winter theme for the first event.  Why not have a go at making penguin bottles?!
You can also enter our competition to win prizes by getting involved with the fun and games with Michelle during Gymbo's Mothers' Day Party.  Join in live to find out more.
After the events you can still watch again, along with all our previous Gymbo @ Home sessions, via our Facebook page.
Some of our centres are running regular Gymbo @ Home sessions via private Facebook groups so get in touch with your local centre to find out more.
Thank you for your continued support, and stay say everyone