A Month of Classes for a Kind Soul
It's Random Acts of Kindness Day (17 February) and to celebrate, Gymboree Play & Music centres* are giving away a free month's worth of membership. It has been a challenging time for everyone through the pandemic and we are sure everyone knows a special individual or two who has done something really kind for them in the last year.
Win A Month's Classes
So, to be in with a chance of winning, nominate a deserving mummy, daddy or carer friend on the local social media pages of your local Gymboree Play & Music centre*.
Please comments what wonderful gesture moved you and why your nominee deserves to win this brilliant prize! Has someone gone the extra mile for you and your family? Have you been surprised and delighted by an unexpected act of human kindness? Then tell us your stories and make everyone feel warm and fuzzy inside.
A Time To Be Kind
This year, Random Acts of Kindness Day takes place on Thursday 17 February. It is part of the wider Random Acts of Kindness Week, which takes place from 13 to 19 February. This year's theme is #MakeKindnessTheNorm. And with next month's Children's Activities Week also themed "kindness", there is a large appetite for compassion, thoughtfulness and more considerateness as we emerge from the pandemic together.
Emotional Development
At Gymboree Play & Music, our classes are designed by experts for social development of children. And so, by interacting with peers and older children, for example in our Family classes, it helps to nurture emotional development. This helps children build empathy and understanding for others, creating a foundation for kindness.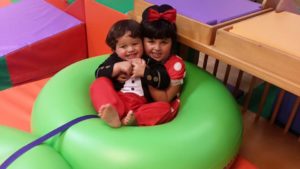 You find out more about Random Acts of Kindness Day here, including heart warming stories and inspirational ideas.
And don't forget to do your bit of kindness by nominating someone special for our amazing giveaway!
* participating centres only