Why Sensory classes aren't just for your newborn!
Written by Stephanie Gross, Director Gymboree Play & Music St Albans.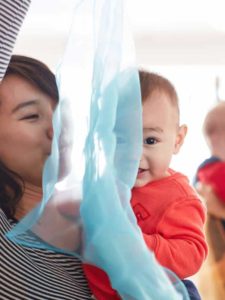 Bubbles, colours, lights…It's all so beautiful for our new-born's, but what about for us?
Although a daunting prospect, attending that 45-minute class each week can help you make friends, keep you sane and help you learn how to play with your baby.
I remember reading Emma Barnett's article on the BBC news app Why maternity leave can be harder and lonelier than you imagine and felt so sad for her. she said and I quote "It's just surviving really". Shortly after the article broke a national survey suggested that 47% of women with a new born felt lonely and 40% of women were affected by post-natal depression.
In early 2018 researchers announced that Singing "Speeds up" recovery from post-natal depression Finally – the research we have all been waiting for!
Here at Gymboree Play & Music St Albans our Sensory Baby Play classes are all about being calm, attentive and interested in the world around them – We help you bond with your little one through singing, signing, kisses, cuddles, parachute play and physical apparatus too – the skies the limit in our classes!
Take the first step by booking yourself into a free trial today.