Children's toys and products are fundamental in supporting their development.
Play and learn
Whether they are at home or at one of our centres, play is an opportunity for little ones to learn and develop. That includes physical, social and cognitive development. So, Gymboree Play & Music Centres are all deliberately designed with equipment that fosters and supports development. And this is underscored by our expert-led programmes delivered by highly trained teachers in our award-winning classes.
Naturally, it is the home environment and with family, where children will under go most of their development. And it is down to patents and carers to provide the routines and play activities that stimulates their growth and development.
Choosing the right spaces, activities and toys is important in nurturing children's development. According to the Child Development Institute: "Toys are more than just fun and games for kids.  Most toys provide at least some opportunity for children to learn. The best toys engage a child's senses, spark their imaginations and encourage them to interact with others."
That's why Gymboree Play & Music's own toys and products have been designed with child development at the forefront.
Bubble the fun
For instance, our Bubble Ooodles makes the perfect playtime activity at home or in classes. It's more than just a regular tub of bubbles too The 4 fl oz pot uses long-lasting solution and with the multiple tubed tip, it provides a rewarding and enjoyable experience for little ones.
In terms of benefits, Bubble Ooodles help children develop a sense of touch, master fine motor skills, develop hand eye co-ordination and a sense of spatial awareness as bubbles float away, near or far. They also build up confidence and give little ones a sense of achievement in creating bubbles!
Nurturing imagination
Another very popular choice for little ones and parents, is of course, Junior Gymbo.  Made from soft and durable fabric to last, Junior Gymbo is a perfect playmate and is very cuddly too! Made with vibrant colours, Junior Gymbo helps with sensory development, particularly visually and touch. Plus, Junior Gymbo is always ready and willing for lots of adventures and nurturing imagination!
Sensory development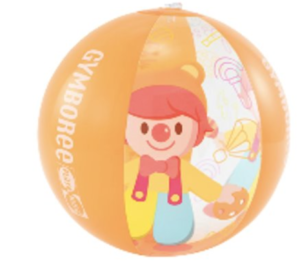 Finally, whether its indoors or outdoors, the Gymbo Beachball is such a fun item to play with at home or on your travels. It is easily inflated or deflated. The Gymbo Beachball is perfect for developing hand-eye coordination, gross motor development (although hopefully not chasing it too far along the beach!) and spatial awareness.
Fun times
Through playtime at home or in classes, there is always a chance to learn through play. And at Gymboree Play & Music, we delight in seeing the progress children make at our centres, in our classes and in their own lives. You can visit our full range of toys and products in our shop and join in the fun!