Welcome to National Storytelling Week! For everyone at Gymboree Play & Music, it is a time to celebrate books, creativity, imagination and learning. Storytime is a special time for everyone who attends family activities, just like our award-winning baby and toddler classes.
At home, reading stories together is a wonderful way for children and carers to bond, particularly before bedtime. And in classes, there are also huge benefits for each child. Storytelling can help with developing both cognitive and social skills. This is especially true for our Family Play (6 months to 5 years), Explorers Plus (28 months to 3 years) and Pre-schooler Steps (22 months to 5 years) classes.
Expert Guidance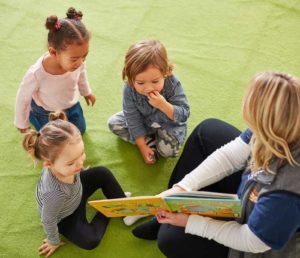 Our expert teachers help to nurture little ones to school readiness through brain games like puzzles, playdough and storytime. This is part of what enables children to become independent learners. Gymboree Play & Music classes are designed to progressively and gently guide children towards school readiness. We use a custom designed curriculum challenging your child as they grow, with changing playscapes and themes every two weeks.
Developing Skills
Storytelling develops literacy and communication skills, encouraging children to ask questions and develop their vocabulary.  Stories also help to transport children beyond their immediate environment. They do this by feeding their imagination and help them to build better understanding around real-life situations. There is also evidence that by reading books and engaging in stories, children can become nicer people! Storytelling can develop a better understanding of other people, helping them to develop empathy.
So, whether it is the Hungry Caterpillar, Harry Potter, the Gruffalo or Mr Grumpy, storytelling can help to build a foundation for life for babies and toddlers. National Storytelling Week takes place from 29 January to 5 February and is hosted by the Society for Storytelling. The charity provides free resources available for schools.