Wishing you a very warm welcome back to Gymboree Play & Music!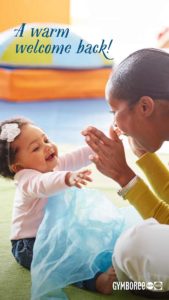 UPDATED – Further to the Government's latest announcement we can confirm that all our centres in England have reopened after lockdown from Wednesday 2nd December.
Our centres in Glasgow South and Bearsden & Milngavie are in Scotland's tier 4 and are currently closed, please get in touch for the latest information. Edinburgh is still open.
Now the legislation for England has been published it's clear there are specific exemptions to cover parent and child groups so we can't wait to see you back in class!
All of our centres are Covid secure having previously implemented new play policies with smaller 'bubbled' classes, one way systems, face coverings, sanitising stations, and no sharing of toys.  So you can continue to feel safe and relaxed at your Gymboree Play & Music classes and enjoy a little bit of normality!
As always please don't come to your class if you or your little one have any of the symptoms of Covid-19, we'll welcome you back with open arms when you're all better.
Of course if you'd rather not come back to class right now, that's perfectly fine, we understand everyone has their own set of circumstances and family members to consider.  Please get in touch with your local centre to discuss your options.
Thank you all for your continued support and stay safe everyone