Gymboree Nominated for What's On 4 Little Ones Awards 2013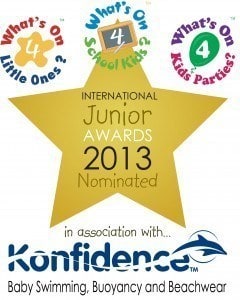 Gymboree UK is delighted to announce that they have once again been nominated for the What's 0n 4 Little Ones awards – and this year they feature in four categories!
After winning 'Best National Pre-School Development Activity', in 2009, 2011 and 2012 and Best National Party Entertainer in 2012, Gymboree is now up for the 2013 awards for:
Best National Pre-schooler Development Activity (2 to 5 years), sponsored by lawyers4mumpreneurs
Best National Baby & Toddler Development Activity (newborn to 2 years) sponsored by Konfidence
Best Children's Party Entertainment
Excitingly, 9 Gymboree teachers have also been nominated as Most Outstanding Activity Leader for the Under 5s!
The teachers are Colette Beard – Gymboree Sevenoaks, Emma Paul – Gymboree Surbiton, Jenny Glithero – Gymboree Islington, Steph Bradley – Gymboree Surbiton, Stephanie Gross – Gymboree St Albans, Deborah Court – Gymboree Solihull, Gail Gillon – Gymboree East Kilbride and Samantha Shields – Gymboree Glasgow South & West End. We wish them all the best of luck.
We have to give a special mention to Guy Lewis – Gymboree Brighton who has also been nominated. Guy suddenly died in January 2013 a week before his third child, baby Ela arrived. In Guy's honour we ask to you vote for this extraordinary man, who epitomised Gymboree and was a true joy to all who met him.
Voting has already begun so  Vote for Gymboree to show your support!