Jumping Gymbo raising money for The Rainbow Trust!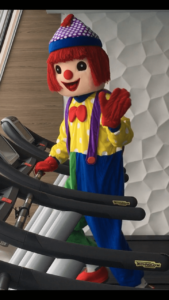 On Saturday 14 October 2017 Gymbo will take to the skies as Colette from Gymboree Play & Music Sevenoaks and Emily and Louisa from Gymboree Play & Music Chiswick battle their fear of heights and skydive to raise funds for the Rainbow Trust Children's Charity (registered charity no. 1070532).
Swapping their usual parachute for a different kind they will jump from a plane at over 10,000 feet, reaching speeds of up to 120mph!
The girls say: "It might sound like madness but we wanted to do something big that represented a huge personal challenge to contribute to all the life-changing work that Rainbow Trust does. Having worked with young children and families for so many years we know how devastating it can be when a child becomes ill and a family has to face a life-threatening or terminal diagnosis."
To donate and support Gymbo's latest adventure please visit our Just Giving page: