Full STEAM Ahead with Mercat events
At Gymboree Play & Music we're celebrating Season 2 of Gabby's Dollhouse now streaming on Netflix. After all, Gabby's Dollhouse and Gymboree Play & Music are the purrfect match!
Now it's time for the second of our Gabby's Dollhouse special events – Full STEAM Ahead with Mercat.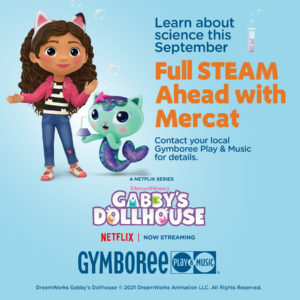 These special events, running at Gymboree Play & Music centres across the UK, explore themes around music, growth mindset, imaginative play, and and introduction to STEAM*. Your child will enjoy an exclusive programme that includes music from the show, dancing and more!
Full STEAM Ahead is suitable for mobile little ones aged up to 5 years old.  The events will feature exclusive original programming created by Gymboree Play & Music child development experts.  Through this partnership with DreamWorks, little ones will enjoy activities that will encourage them to use their imagination and bring the show to life.
Ticket prices per child vary depending on location, but their grown up is free!
Get in touch with your local centre now to find out more and book yourselves in.
So come along to Gymboree Play & Music and join in the fun!
*STEAM areas of education cover science, technology, engineering, arts, and maths.