It's Child Safety Week: an annual campaign run by the brilliant Child Accident Prevention Trust, the only UK charity dedicated to preventing accidents in children.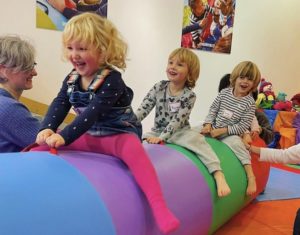 Navigating risk
Us parents and carers can be an anxious bunch, worrying about our little ones getting into trouble as they run, climb, leap, reach and eat their way through life's daily adventures. It can feel like they're lurching from one near-disaster to the next: such is the nature of childhood. We all want our little ones to have the freedom to grow and learn, but navigating risk is a tough one, and the stakes are high.
Building confidence
Child Safety Week is not about scaremongery. The campaign seeks to build confidence and skills in managing real, genuine risks to children's safety, and reminding us of the simple changes we can make to stop serious – often avoidable – accidents. The big topics covered in this year's campaign range from burns, choking and poisonings to water, fire and road safety. The thought of which is enough to keep any of us awake at night.
CAPT helps families and carers better understand the risks at each stage of a child's development and make sense of the often-baffling array of advice on offer. All in the name of happier, heathier families.
Gymboree Play & Music: the safest place to play
Your little one's safety is our number one priority at Gymboree Play & Music. We pride ourselves on being the safest place to play.
We have a policy and clear protocol for just about every eventuality, so you really are in safe hands. What's more, we firmly believe it's never too early to start talking to little ones about staying safe.
Take, for example, our Explorers Class for 22-28 month olds. This class is all about bringing the play floor to life: trips to the shops, baking cakes, looking for bugs and going to a party. We transform the playscape into reimagined real world activities.
Over the years, we've found this to be a great way of slowing introducing little ones to the concept of risk. Ovens can be hot, roads can be busy, not everything that looks bright and yummy is in fact food.
If you haven't checked out a Gymboree Play & Music class yet, do get in touch. Guiding little ones through life's obstacles can feel a bit daunting and we'd love to give you a helping hand.