At Gymboree Play & Music, no two children – or Gymboree Play & Music parties – are exactly the same. Allow us to turn your child's passion into an unforgettable birthday party guaranteed to be a celebration of fun. You let us know your child's favourite games, songs and activities and we'll create a custom made party you can call your own.  Guaranteed to be 100% fun with zero clean up!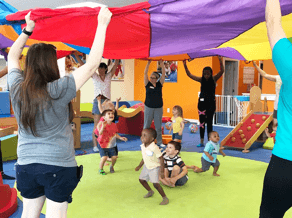 Gymboree Play & Music Birthday Parties are a 2-hour booking. We can offer you a 2-hour timeslot in afternoon on Saturdays, or we can offer you the space between morning or afternoon on Sundays.
TEACHER LED PARTY: 
 Our 2 hour Party Hire is offered at members to discounted price of £240 under 5's, £230 under 1's (non-members £290) and this includes a 45 minute teacher led session of play activities. Our Birthday parties include:
Two hours exclusive venue hire of our playroom and reception, including a complementary 20 minute set up time, which a teacher will assist you with.
Up to 15 children under 5 and 13 adults may attend
45 minute teacher led session within your two hour hire
Children's Party Food, please see our attached menu for details(*).
Bring your own party tune, connect your music to our Bluetooth speaker
You are welcome to bring your own birthday cake for consumption in the reception area. You may bring alcohol which must be consumed in plastic cups. For an additional cost, we can offer adults catering either within the reception area during the party, or you can arrange party catering options with CafeG, cafe right next door to us.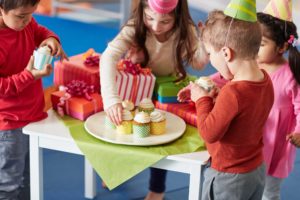 FREE PLAY PARTY:  
Alternatively, if you would prefer a simpler party, we offer a further discounted option for £190. This includes:
two hours exclusive venue hire of our playroom and reception area.
teacher led close to your party with parachute time, bubbles and 

Happy Birthday

 with Gymbo.
Self-catering option, you can bring your own food, only COLD FOOD, you are responsible to clear all remaining food, cutleries, plates etc…
Or CafeG catering at an extra £5 per child
*Additional time might be possible for both party options, depending on availability.
*50% deposit is required to secure your booking.
*Full balance due two weeks before the date of your party.
*Strict cancellation policy, full refund with 7 days' written notice, 50% refund with 48hrs written notice before the start time of your party.
(*)Click on link below to view our Party Food and extras options available:
Want to book a party? Simply choose your date and time below – pay the deposit and you're almost there!