Top Tips for your little one's Birthday Bonanza!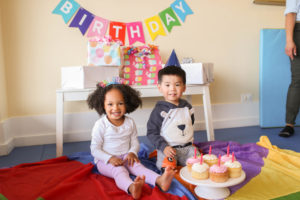 Whether it's your little one's first, third or fifth birthday, they're all so special and a celebration of the bundle of joy in your life. However we know it can be stressful to plan a birthday party so here are our top tips…
Book the date far in advance. Here at Gymboree Play & Music Cheam we offer both on site and On-the-Go parties for flexibility. Hire our room months in advance and reserve your space with a deposit to tick off one thing on your to do list! We offer our great playfloor strewn with balloons and access to our wonderful equipment as part of your booking. Alternatively, if you have a venue already, why not hire a Gymboree Play & Music teacher to bring some of our fantastic equipment with us and lead a party in the venue of your choice? Let us entertain your little one for 45 minutes and take care of the fun!
Prep your party bags! Pick up a bag of party bags from your local supermarket or order them on Amazon and fill them with fun things for your little ones. Want to avoid the sweets? Then for little ones try popping in a fruit pouch from our partner My Little Piccolo.
Don't sweat the invitations! We provide these here at Gymboree Play & Music Cheam. Want to save on paper and time? Why not email parents with an invitation!
Pick a theme and stick to it! Here at Gymboree Play & Music Cheam we can design our party around what your little ones. Do they love Peppa Pig? We can incorporate this in to our farmyard fun theme? Does your little one love Princesses and Superheroes in equal measure? Then we can do both!
Let us sort the music! With playlists full of kids songs and oodles of bubbles galore, we're prepared for the party fun!
Grab the cake, party food and tablecloths and we'll help you set these up for you on arrival. Let us take care of the mess by eating on our party parachute. We simply scoop this up at the end from our playfloor and take it away for you!
Remember to enjoy yourself! With a party at Gymboree Play & Music Cheam, we take care of the entertainment and help your little one have a memorable party! We bring the fun, you bring the food!
Book your party with us today by emailing us at cheam@gymboreeclasses.co.uk, call us on 07990761259, or drop us message through our booking form at www.gymboreeclasses.co.uk