Play Classes Near Me
Our play classes are the perfect opportunity to support child development. By attending our famous Play & Learn classes, babies, toddlers and pre-schoolers can all reap the cognitive, social and physical benefits, creating the foundation for a happy and healthy childhood. Our Play & Learn classes are uniquely and intentionally designed around your child's early development, which happens organically and differently for every child.  Because of this, our class groupings are not designed by age, but rather by milestone to give our parents more flexibility and the opportunity to choose the class that is right for their child!
Stimulating Environments
First of all, by joining classes, little ones from birth through to five thrive in our stimulating environments based around our patented equipment, experiencing a wide variety of fun activities. These include sensory play, song, imaginary play, climbing, balancing, and exploring around the equipment and playfloor.
Not forgetting our open gym sessions where children are free to explore, be creative and imaginative, at their own pace.  And so, children will develop strong bodies and healthy minds. Leading experts agree.  According to a report by the Chief Medical Officers of England, Wales and Scotland, physical activity in the early years "contributes to brain development and learning".
Making Friends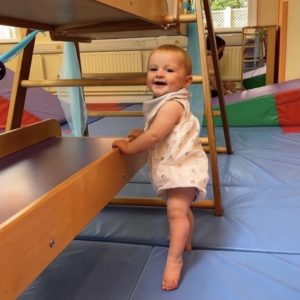 In addition our classes are also great for parents and carers. That's because it's a time for sharing special moments with little ones and meeting other new parents on the same thrilling journey.  Friends made at Gymboree Play & Music last a lifetime!
Emotional Intelligence
Through play, children will learn about healthy risk-taking, problem solving and develop a greater awareness of themselves and those around them, nurturing empathy and emotional intelligence. And as any parent learns, a healthy routine leads to a happy and healthy child. In attending play classes, little ones will work up an appetite and be ready for sleep. And with some gentle separation, it is also a place where little ones grow in confidence, independence and become school-ready.
Language Skills
Furthermore by being exposed to different play classes, it's the perfect chance to introduce words and attach them to the environment and situation. As a result, it helps them to build vocabulary and develop language skills. Play classes also foster problem solving skills. This works through exploring various environments and unfamiliar scenarios, where children are challenged to figure things out. It is one of the features of classes at Gymboree Play & Music, designed by experts to nurture child development.
Play & Learn classes:
Latest Gymboree Play & Music News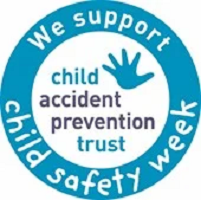 It's Child Safety Week: an annual campaign run by the brilliant Child Accident Prevention Trust, the only UK charity dedicated…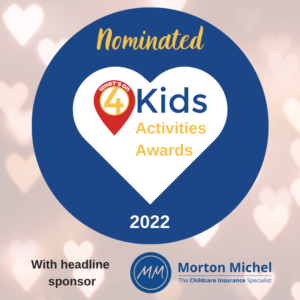 Please vote for us, we're through to the voting stage in lots of categories in the What's On 4 Kids…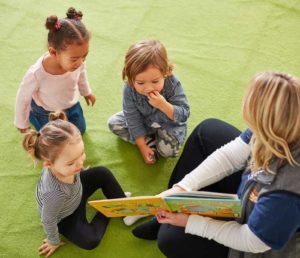 This month is National Share A Story Month: a celebration of the power of story telling and story sharing, and…
Read more

Reviews
Both of my children (3.5 years and 11 months) go to Gymboree Play & Music and love it. My toddler goes to their drop-off Lego class which she raves about. It's very creative, working not only on Lego skills but also painting, drawing etc. My infant son loves his Gymboree Play & Music Crawlers class - particularly loves crawling all over their props, through the tunnels, etc. Great way to get the infant crawling over obstacles! Gymboree Play & Music is part of our weekly schedule for both kids and we look forward to participating every week. Invaluable!
Gymboree Play & Music was a lovely and positive experience for my son Leo. We started when he was 9 months and he is now 3 years old, I wish we had started sooner.
He loves the songs (which is part of our daily singing at home), the freedom to explore and he was happy there. He looks forward to class every week and once class is over he will tell everyone about Gymbo and what he did.
For me, I liked that it taught him how to get down safely from a height, how to learn to use his body, and touching on different topics every 2 weeks. It gave me confidence in other environments to trust that he has the ability that he learned from Gymboree Play & Music and to trust him.
Absolutely amazing place! Especially Aaron from the Chiswick branch, always makes us feel very welcome there. He is extremely passionate and professional. His warmth and enthusiasm are precious. I would recommend that place to everyone! So happy we found it in our community. My son loves going there.
Read more of our 884 reviews