Let's keep physical, physical…
Written by Stephanie Gross, Director Gymboree Play & Music St Albans
Let's keep physical!
With a new lockdown looming, this one will be much harder than the first for a lot of reasons – the weather, the memories of before, and most importantly a different child from last time! Your little ones are much older than before – maybe crawling or walking now, running, jumping and causing mischief in the house making it a new experience for all! You may even have another little one in tow too You may be back at work and are now having to juggle work life and home life all under one roof. Whatever you're going through we want to remind you that you are not alone, you may have to put your coat, wellies and hats on but please do get outside and enjoy the fresh air together!
Here are a few tips and tricks to help keep little ones physical while spending more time at home. Please note all ages are just guidelines!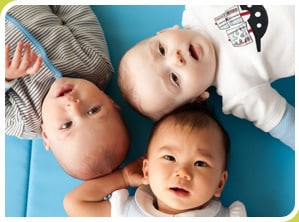 Babies
0-6 months
In the first few months of life little ones are starting to explore the new world around them; keep them calm and interested with visual tracking – you can use your fingers, a prop, anything! Just remember to take it slow; build your little ones understanding of the activity and move more (side to side, up and down or just above their head and towards their tummy) when their confidence blossoms. Remember our little ones start to see in black and white first and over time colours start to emerge; think of the objects you use to challenge your little ones!
Tummy time: a workout for the body! Tummy time is the art of encouraging little ones to support their own head which in turn will help them with core strength and balance which will ultimately lead to a sitting child. Make a bolster (rolled up towel, blanket or pillow) and place it under your little one's arms – remember we want arms in front of their body so they are supporting themselves, this way the bolster will help take pressure off little ones to allow them to work on their head control.
Start introducing your little ones to auditory senses – your little one will be home, a lot, and not have much sound around them – play music, sing songs, dance around the room, imitate animals! But start to create with them now so they aren't as startled when they come back to classes!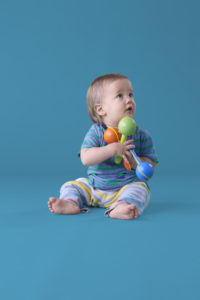 Crawlers
6-12 months
These little ones are the most frustrated of all, they can see an object – they want it but their body hasn't quite worked out how to get it yet. They may face plant, throw themselves backwards or collapse when placed into a standing position; Each time this happens – soothe little ones and set them back up again, we want to build their muscle memory as much as possible! What's muscle memory I hear you cry "It's creating a motor task into a memory" – a great example of this is walking, we don't think how to walk – we just know how through repetition, practise makes perfect!
You may use your sofa, coffee table, cot, bed or bath to get little ones into standing positions – we want nice flat feet to the floor so if the piece of furniture you are using is too high for grasping you may place a box, pillow, blanket down to support your little ones. Remember when changing the texture from under them it will change the way in which they balance. Think about our body and how it changes when we walk across sand, or pebbles at the beach.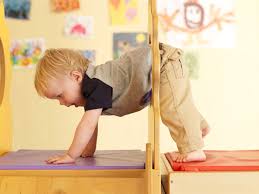 Walkers
12-16 months
We are up, on our feet and trying to walk – we may be walking already and practising our new found skills. Hold little one's hands, keep them safe and encourage confidence! Lots of smiles and praise, even when they do fall down; we get back up and we try again!
To keep your little ones forward facing (upper body is facing the direction they intend to move towards – remember their head is 3x heavier than the rest of their body!) You may use props such as walkers – but don't forget about your buggy! Get outside, take your little one out of their buggy and you hold the handle and have them holding onto their seat, slowly move backwards encouraging your little one to push their buggy, voila they are walking! Please note for little ones that need extra support, stay with them and support by the torso to build their understanding of the activity.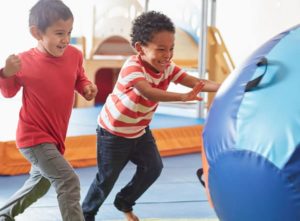 Runners
16-24 months
Run, Run and Run some more! These little ones love to be on their feet, they are fast and always looking for something new to do and they have very short attention spans; why wouldn't you walk off to explore something new when you're bored of this activity! Keep them entertained by developing the activity – we may explore with a ball: kicking it – catching it – rolling it – hiding it – bouncing it – bouncing on top of it. The possibilities are endless!
Now that our little ones have mastered the art of moving, it's a great opportunity to start introducing speech – not only may we say "ball" but we will also ask for repetition of words like bounce, roll, catch to start a conversation! Allow your little one's to start playing alone, of course with supervision to develop their parallel play; they may play next to you – or another child but they do not yet play together; our Runners are solitary characters who have a mind of their own.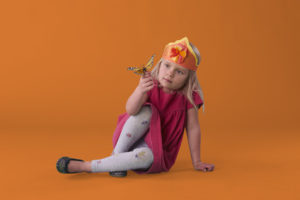 Explorers
24 months +
During this period of time our little one's way of learning changes, over the past two years our main focus had been ensuring our little ones are comfortable physically while learning communication skills along the way. Now we start to really work cognitively by exploring pretend play. Let your imagination run wild when playing with little ones of this age, you may set up a picnic or go on a bear hunt. You might make food or be a firefighter – the possibilities are endless! Remember to add songs, movements and props to really enhance your play; a ball could become an apple – crunch crunch!
You may show your little one's pictures or objects and start to talk about them, what we use them for and then pretend to use them (or really use them if you're comfortable doing so). This strengthens your little ones symbolic thinking – the art of understanding what a fire engine is, they can visualise it, they can pretend to drive it and make the correct sounds.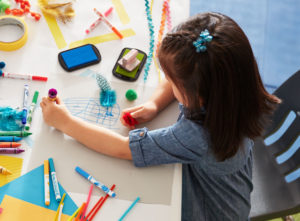 Create & Learn
0-5 years
Put aside the mess and embrace art with your little ones! Put some newspaper down, do painting in the bath, garden or park but create! Encourage physical dexterity (fine motor skills) by allowing little ones to play with sponges, paint brushes, stickers and sequins (we would suggest smaller items from around 18 months). Don't worry about all the tidying up you have to do – little ones love to help! Sing a goodbye song or play "clean up crew" by our Gymboree band Parachute express!
A great way to develop self-expression through the medium of art is by exploring visual literacy. The way in which you interpret art (or your little one's art) – this could be drawing a story, "I might start with a bright blue sky and some trees". It could be talking to your little ones about the work they have created and exploring colours – you might even mix colours together, an amazing magic trick – WOW!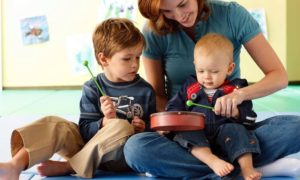 Sing & Learn
0-5 years
When people think about music, they think about expressive behaviour – your little one playing an instrument and singing along but in order for us to get there we have to be receptive to music first.
Receptive, meaning the ability to learn is compulsory for little ones to then become expressive; meaning the ability to communicate. If we think of our little ones as a sponge, they soak up all our love, attention and information and when they're full it comes flowing out for you to see – this is usually the most exciting part "They clapped their hands for the first time today". You wouldn't not clap at them all those months prior so you wouldn't not explore music with them either.
Let's all try singing row your boat together- will your little one anticipate the ending and let out a scream? What about Twinkle Twinkle – is your little one in admiration listening to your voice or trying to get their fingers moving like yours?  It may take time for your little ones to be expressive but it's definitely worth the wait!
Did you know music is linked to memories and some children can recognise songs that were played to them while in the womb for up to the first year of their lives!
Play Healthy, Stay Healthy!