Drop-Off Theatre Arts Workshops
DROP-OFF THEATRE ARTS (3 – 5 years)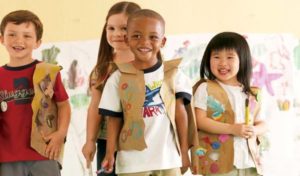 We are pleased to offer Drop off Theatre Arts Workshops this SUMMER for children aged 3 to 6 years.
Our 4-day workshops, based on a chosen theme, help develop confidence, self-expression, concentration and interaction with others by using Drama, Music, Art and Dancing.
Plus, you get to enjoy watching your child in a short performance at the end of the week!
In both Key Stages 1 and 2 of the UK Schools' National Curriculum, music, dance and drama are seen as a way to develop control, coordination, poise, expression of feelings, expression of moods, expression of ideas and response to music. Our Drop-Off Theatre Arts programme develops all of these important skills and in doing so promotes independence and school readiness.
Dates:
Monday 1st – Thursday 4th August ENCANTO 
Monday 8th – 11th August The Very Hungry Caterpillar 
Monday 15th – 18th August ENCANTO 
Monday 22nd – 25th August The Very Hungry Caterpillar  
Times:
Monday 3.15-4.30  Tuesday & Wednesday 12.15-1.30  Thursday 3.15-4.30 
4 -day workshop costs just £69 (£99 for twins/siblings)
Places are limited and will be offered on a first come first served basis.
FAQ:
How long does each class last?
Each class is one hour-fifteen minutes long and the course lasts for 4 days.
What's included in the price?
Each class offers Create, Play and Sing & Learn – We also provide water for each child as well as free play and visits to Gymbo's Garden! All creations made on-site will be taken home and a certificate and balloon will be presented after their final performance.
What should my little one wear?
Anything they are comfortable in. Please note we will also be using paint and other materials during the sessions so please dress appropriately. Little ones will be asked to take their shoes and socks off.
How long does the show last and can more than one person come to watch it?
Our performance's last around 15/20 minutes. We only have limited seating so can offer up to 2 seats per child.
Can I take photos?
With prior permission from other parents/carers of course you can.
We don't know which themed week to choose?
Choose them all! – it really doesn't matter too much, over the 4 days your little one will become extremely familiar with the theme even if they have never read the book before.
How do I book?
Use the form above, drop us an email, give us a call or pop in to reserve your little one a space. The courses fill up quite quickly and spaces are limited!